2006 - Germany

Meet & Greets with Marie

3. 2006/06/01 Hannover
2. 2006/05/26 Bremen
1. 2006/05/10 Cologne



DVD double pack
Marie 1 + 2

Videos in full length and
higher quality + extras !!

Please visit our fanshop






2006 / June / 01
Hannover - Germany

Meeting with Marie

Grand Opening
The fashion chain "New Yorker" celebrates
the opening of the 450th. store in Europe
... with up to 30.000 visitors this day !!

First we met Marie at the autograph session, then followed her
through the store and recorded the acts she was booked for.
Later we went backstage and talked with Marie and her staff
about the funny things happened over the day and Marie´s huge
success here in Germany. We all had alot of fun. But too bad,
today was the last day of the big promotion tour Marie did
the past weeks. Now she´s flying back home to Stockholm.
Thanks alot Marie, for spending your rare time with us !!
You stayed as we know you since ages, always a great and
funny person ! Thanks for all again, we have enjoyed a nice
time with you in Germany and hope to meet you soon again :)


PHOTOS video caps


UNCUT VIDEO
Same video, but in higher quality
on our DVD Marie 1







German Radio

"That´s the way
my heart goes"
is top in
many user charts !!
Thanks for
mailing and calling
german
radio stations



A special

goes to

Marie and
Thomas
- Sony BMG -

& to
the staff of
New Yorker
Bahnhofstr. 6-7
30159 Hannover

New Yorker

As well as the Fangroup No.1, the "New Yorker" fashion brand
has its headquarters in Braunschweig, a city close to Hannover.
Our local newspaper reported about the opening, the article
you can read in the archived newspaper as PDF - page 22/22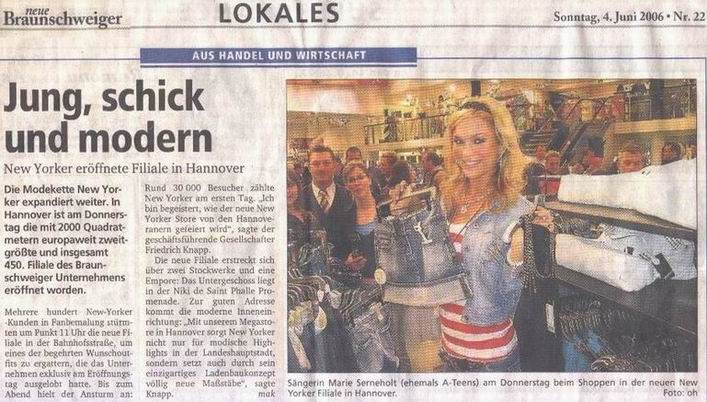 2006 / May / 26
Bremen- Germany


Meet & Greet

@
The Dome 38


Our 2nd meeting
with Marie since
she´s acting solo





After we´ve checked the stores to get some copies of Marie´s
debut album "Enjoy The Ride", which was released today, we went
to Marie's hotel and got an exclusive meeting in the lounge, just
a few hours before Marie's big performence at THE DOME - so what
could we've said more than to wish a "Good Luck" for the show ?!
At the meeting we talked about her fans in Uruguay. Some of our
members there sent letters and nice gifts we handed out to Marie.
After the meeting we went to the hall to watch her LIVE on stage.

Read all about below and enjoy our videos !

Special Action :
Marie's video greet we shot with Jessica's cellphone
and sent it directly to Marco who was already
waiting to post it for you fans at home !









flash video



Marie !

Thank you so much for spending your time
with us again, we will never forget this day !

Our Marie's
photos gallery



We also
want to thank

Alexandra
& Marie
- Sony/BMG -

for making
this meeting
possible:
it was nice
to meet you !



HAPPY !!

After this
exclusive
Meet & Greet
we went to the
hall to see Marie
live on stage ...






Bravo Marie !

You've done a great job, nice performance !

It was a bit far away in the hall, but later at home
we saw and enjoyed the show on TV once again.



2006 / May / 10
Cologne - Germany


The Fangroup's 1st Meet & Greet
with Marie as solo artist !



A big promotion tour is
plan of the next weeks:

Marie's earworm
"That's The Way
My Heart Goes"
is running up & down
on the radio channels
and her debut album
"Enjoy The Ride"
will be released soon.

The Fangroup
got an exclusive
meeting with Marie
in her hotel at
Colognes Media Park.





Today,
Marie just came back from a
radio promotion in Hannover:

She said it was a long drive over
the highway back to Cologne
and that it smells when she tried
to open a window: "Gestank!"
said Marie in german and laughed
about how it sounds. Of course, we have alot more traffic than Sweden, where the air is really much cleaner!
We too always noticed that when
we came back from Stockholm .





Interview 1

After a warm and heartly "Welcome !" we asked Marie
how it feels now as a solo artist, and that we're very
happy about her come-back and this huge success !!

Marie gave us the facts to all questions !

Special thanks to Marie
and Jessica, who run this interview !

photos/gallery


Interview 2

Annika and Marian, friends of our member Sandra took
also part of the meeting and made an exclusive interview
for a radio show they´re working on. You´ll be able
to listen the interview if you receive the local channel
Antenne Ruhr, City FM: Dirk Visser´s Drive Time Show




Marie !!
It was so nice to meet
you again after two long
years now. We wish you
a huge success here in
Germany - and hope
to meet you soon again.




Alexandra and Robin
Sony/BMG
for making this
meeting possible !










Jessica Thommy Annika Marian Sandra