2021-05-17 Amit/Sara Video Meeting on ZOOM

2012-07-02 Dhani - our exclusive interview !

2012-07-01 Amit/AMP - our exclusive interview !

2011-12-22 Amit´s greetings & infos on his FB

2011-12-13 Sara´s guestbook entry !! (164.)

2011-03-12 Amit - the interview on his facebook

2010-02-20 Amit´s reply to our request on FB

2010-02-09 Dhani´s reply to our request on FB






2021-May-17 Video Meeting with Amit and Sara !!

Recording of yesterday's AMA (Ask Me Anything) with Amit and Sara
who also dropped in to have fun with almost 100 fans who logged in
from round the world.
You can read more about on Amit's fb fanpage and our news pages
of Amit and Sara
Keyofmine







2021-March-08 Video Meeting with Sara and Dhani !!

Fans from Latin America organized a video meeting on ZOOM and had
fun with Sara and Dhani at yesterday's International Day of A*TEENS
More about you can find on our news pages 2021 of Sara and Dhani

A-Teens Chile Community






2012-July-02 Exclusive Interview with Dhani !!

Dhani, thanks a lot for doing this interview with us ! :)
So here it is, have fun reading it:


1. When will you be back?
As an artist, I dont know. I have so much to do as a producer. But as
as soon as I have a day where I can work on my own stuff I do. But
Im not working against a time frame. But Im very excited to get stuff
out as soon as possible!:) Cause Im sure about what type and style
I wanna do.



2. What is planned for 2012/13?
To keep making hits both for me and for other artists.
Music, music, music!!:)

3. Are you working on a new project? Can you share something
about with us?
Like I said earlier. I got my own "artist" folder in my laptop that Im
working on stuff for myself as soon as I get a chance, but its not pri 1
right now. But Im suuuper excited to get my solo stuff out for you
guys.



4. Who are you working with? (producers/musicians/songwriters)
All different, dont wanna tell you guys to much yet. But I will def
keep you guys posted.



5. Are you writing new songs?
Yes.

6. Are you writing music for other artist/s?
All different artists, keep you guys posted..



7. Will you release a new song/single anytime soon?
As soon as I feel I have something that is KILLER! So, sooon....



8. Where do you get inspiration to write your songs?
Ouuufff, all different. My girlfriend, she is the world to me!!


When I wake up. When I visit new places.When Im in different
modes, like happy sad etc. So that means all the time.



9. Would you like to try new styles?
MY own style Im working on is alooot different from A-teens. lol

10. Which artist/s would you like to do a duet with?
Hmmm, I have alot of people in mind. Cant tell you now.



11. Which Swedish artist/s would you like to do a duet with?
Cant tell you now...

I keep you posted, promise!

12. Who have been the biggest influences in your musical career?
Hmmm, impossible question. I get inspired from alot of different
artists, people, friends, family, life.



13. Which was the best moment of your career?
Wow, Ive had so many great moments. These days it is to be able to
work with people you admire and get inspired from.
With the a-teens it must have been.. hmm, our headlining tour in the
states or all our crazy trips to south america.



14. Would you like to participate in Melodifestivalen? (ESC)
ESC have never been something for me. i think its great for artists
toget their music out, but I would never participate.



15. What happened to your website? When will it be updated?
My site is pretty "dead" right now. lol sorry. But cause my artist
career is a bit on hold right now. I wait til I know more and got
info for you.

But soon, real soon!!

One more favor: Could you send a few lines greeting to Fangroup No.1 (www.fangroup.net) and to all your fans?
Thank you Fangroup No.1 and all you guys out there for always being
there for me, for all the love and support during all these years.
Thank you for your patient. But I promise it will be worth it!



Luv Dhani.







2012-July-01 Exclusive Interview with Amit / AMP !!
for the official facebook fanpage / run by Marina

Amit, thanks a lot for doing this interview with us ! :)
So here it is, have fun reading it:

1. What is planned for 2012? Are you working on a new project?

Well nothing is really planned for 2012 but a friend of mine and I just started a band. We both have our own separate solo-stuff and we
have been writing some stuff together as well. (You can find his stuff
on Spotify: Marcus Gamme)
We were having a lot of fun more than anything but it is turning out
good. It is also fun for me instead of starting with an album we start
playing now. We had one show just a couple of weeks back and we are gonna try to do one more in end of August in Stockholm.

2. Are you writing new songs?
Will you release a new song any time soon?
I am writing again. It is so much fun! You'll get to hear live versions
of new/old stuff soon. I'm working on getting the mixes together
right now. Hope you like them!

3. Who are you working with? (producers/musicians/etc)
I am not really working with any one. Me and Marcus Gamme have
been writing some but mostly I am writing myself. We'll see I am
gonna try to find some people to work with but this time I will do it differently again. I think that playing live is going to be the focus of
this little project I have not done things before in that order. It is
interesting to see songs work on an audience and you also get a
feeling for the songs while rehearsing them - you end up changing
things and switching them around, mending lyrics that aren't really
working or changing chords etc. Also you get the tempo into your
body and the vocals etc. It gets to be a whole different song once
you record it.

4. How did it come up the AMP. project?
Will there be more AMP. shows?
AMP. is just as I said good fun. It stands for Amit & Marcus Project.
It is what it is. We will try to play a little and rehearse and write some
stuff. We are also playing around with a bunch of covers that we like
- apart from our solo stuff.

5. Can you give us a short review about AMP. show on June 16th
at Svea Strandcafe?
It was a lot of fun. But it was a mess. We had 21 new songs (new for
us 4 that were playing) it was hard to remember everything. Once you
are going you are fine but starting and finishing at the same time was
a bit of a challenge in the beginning.
Overall I think it was good. The slower songs and most of our own
stuff went really well. Daniel on the base is a really good player and
so is Niclas who is also Marcus's brother. Marcus is very experienced
live and his guitar playing was very stable. My voice felt really good.
Even though I am a little unused to playing and singing at the same
time I think it turned out well. The weather was just amazing and
people ended up having a lot of fun, or so it seemed.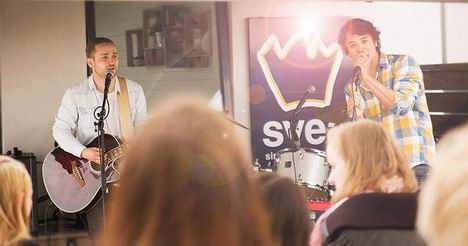 photo: musiclovers




2011-Dec-22 Amit´s greetings & infos
on the official facebook fanpage ~ run by Marina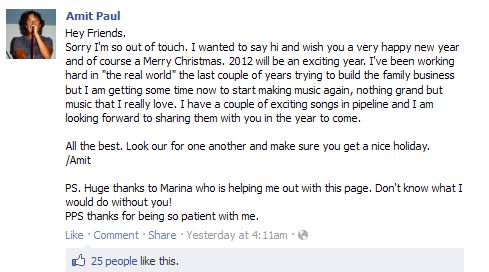 2011-Dec-13 Sara´s guestbook entry !!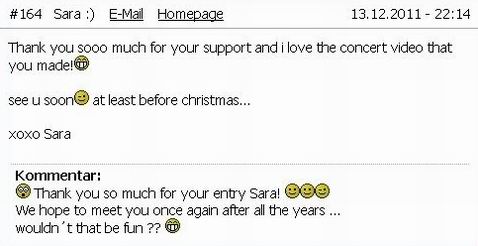 01 Jessica from Spain & Rodolfo from Chile: When will you be back?
That's a difficult question to answer. I am writing music currently and I have
an idea and a plan to try to record it this year. It always takes longer than you
think it will. The last album was supposed to be done in the beginning of 2007
but wasn't really finished until late 2008. So my answer is, I don't know. I'm
working on it. I am really happy with the music that I am writing currently
and I hope you will like it too.
02 Thomas from Germany & Jose from Mexico: What is planned for 2011?
I am currently running the family company. We work with a toxic free flame
retardant plastic. It is very different from what I've done before but it is
also very fulfilling. It's very challenging intellectually and extremely exiting
to actually do something that will make a difference once it works.
We want to replace persistent chemicals like bromine and antimony for
instance. Very much inline with the Stockholm convention (read more at http://chm.pops.int/). And then as I said I am writing and have a plan
to start recording another album.
03 Leonardo from Sweden & Camilo from Chile:
Are you working on a new project?
(see the other answers)
04 Marina from Argentina: Can you share something about it with us?
It is very much in the same vibe as the last project as far as the songwriting
goes. But I want this one to have a very specific sound to it. I am trying to
find a balance between acoustic elements and electronic. I am pretty excited
about some of the melodies that I have and I think that it will be a great
album. I'm still looking for that perfect balance though.
05 Thomas from Germany: Who are you working with?
(producers/musicians/songwriters)
I am currently working alone actually. I want to find someone eventually.
I'm thinking about some really talented Norwegian producers and there is
also some people in Sweden that could be interesting. But we'll see.
06 Thomas from Germany: Will you release a new single soon?
No unfortunately not. It will happen but not soon.
07 Leonardo from Sweden, Dicky from Indonesia & Paulina from Mexico:
Will you release a new album later this year?
No that will take longer than that. Writing, producing and getting all the
other stuff done takes time…
08 Lucia from Uruguay: Would you like to try new styles?
(swing/salsa/tango)
Well I haven't thought of those styles but there is definitely
going to be a new sound to the new stuff.
09 Marina from Argentina: Who have been the biggest influences in your
musical career?
That's a difficult question there are a number. I think that Freddie Mercury
(Queen) and Michael Jackson are going to be some of the most important
bands. But then there is of course ABBA and The Cure for songwriting.
Ryan Adams for presence. Newer Swedish music I really like is Daniel Adams
Ray, Robyn and Oscar Lindros. There is a lot of interesting things going on in
the music business right now. Other bands that I think that have been really
creative lately is Jónsi, Ramona Falls, Miike Snow and a bunch more.
I love music. I listen to it all the time, everything from the really poppy stuff
to more rocky stuff. What triggers me is always a good melody and an involved
singer with a lot of commitment.
10 Marina from Argentina: How is a day in the studio? How does the process
of recording alone compare to recording with three other people?
A day in the studio varies. If I'm writing it's mostly loose. Just playing a lot
and trying to figure stuff out. Normally there are a lot of breaks until you get
a goodidea and that's when work gets intense. Producing is hard work. It is
more like the handicraft of it. You need to be creative but there is also a
feeling of getting the work done. You just put down vocals and build the
track and the sound. Try to find fun things to do with the song you wrote.
Think it through and figure out how to make it better.
Mixing is something you need to pay a lot of attention to. It is a level of
detail that is just insane. I'm not patient enough for that. There needs to
be a balance between perfection and feeling. That is very hard to achieve.
Those days are normally really focused but not that long.
I can't compare it to before. Before we were the singers more than anything.
This time around I'm the project leader and I have final say and opinions in everything. That just can't be compared.
11 Camilo from Chile & Jose from Mexico: Where do you get inspiration
to write your songs?
Everywhere. Mostly relationships and interesting stories that I encounter in
my everyday life. I will need to feel something or experience something and
then let it sink in for a while. I hardly ever write songs while I'm in the middle
of chaos, these things normally turn into songs after a while.
12 Belinda from Germany & Thomas fr. Germany: Are you writing new songs?
(see previous answers)
13 Marina from Argentina: Some time ago you uploaded some
songs (Songwriting Demos) that didn't make it to the album.
Are any of those songs going to be part of your new album?
I don't think so. Or they might. I haven't decided yet. Those songs are songs I
really like but it depends on what else I can come up with. What do you think?
14 Marina from Argentina: Once you have new demos:
Will you upload them to your website?
Yes. Eventually. I mean I will have to keep some stuff secret so that it's
exciting or you too right ☺.
15 Rodolfo from Chile, Nicolas from Argentina & Leonardo from Sweden:
Have you ever thought of recording songs in Spanish? And Swedish?
Swedish Yes, that's actually something I'm experimenting with now.
Spanish… well I would if I got another big international release.
We'll see there might be some way to make that happen.
16 Marina from Argentina & Rodolfo from Chile:
What is your favorite song from your album? And why?
That is a difficult question I of course love them all in their own regard.
This album was a big experiment for me and the songs that I included are
ones that I have been living with for a long time. They are part of me, which
you can also hear in the lyrics they are all safe-lived. One that I do like a lot
is the last track on the album"The One To Fall" but that is due to the
production. Johan who is playing guitar on it just came in the studio and
performed. He was amazing. All the little tracks and the building around it
and the details were fantastic. But I wouldn't call it my favorite just another
one that I like a lot.
17 Marina from Argentina: How did you come up with the name of your
album "Songs In A Key Of Mine"?
It is actually a play off from the famous album "Songs In The Key Of Life"
by Stevie. I mean I was only 25 when it got out and I don't think that I was
quite ready to write songs in the key of life. And secondly it was very literal.
I mean the A*teens stuff was hardly ever in my key. And the fact that I could
do things my way and write lyrics that I could relate to etc. It was just my
way of expressing that I finally got to do things exactly the way I wanted.
18 Marina from Argentina: How would you describe your album?
I try not to. I know what my album was to me which was a process of healing
and proving to myself that I could do it, I have no idea what it is to anyone
else.I do hope that it leaves you with a good feeling after having listened to it.
19 Leonardo from Sweden: You said once that your album didn't sale as
much you wanted and expected, but haven't you thought that the album
could have been a success abroad? You have so many fans world-wide, in
countries such as: Argentina, Chile, Mexico. Many Swedish artists succeed
abroad first and then in Sweden. e.g.: September.
That is a possibility. There was so many thing that were on my mind at that
time and I didn't ever really investigate the possibility of going abroad with it.
I have had some fantastic people help me out like Marina and Maria and Timea
from Hungary who have tested the markets a little bit but I have never been
able to roll it out on a bigger scale. Maybe that is something we should try
with my new stuff… when I let go of my perfection enough to get it off my
harddrive and ontothe internet ☺.
20 Marina from Argentina: How was shooting a music video by yourself?
Did you have fun shooting both videos? Which one is your favorite?
I loved it. Both in their own right.
My Elysium was a very intimate thing and my friends shot it for me. It was
more just piled up documentary footage, we went to new york for fun and
they shot some stuff and then I had a concert that was awesome, we did
my Elysium like 3 times so that we could get all the shots we wanted.
Then with Judge you I worked with some young ambitious guys who were
just awesome. Got the whole idea together and auditioned for an actress.
Susanne later got her break in PUSS this summer here in Sweden. She is
great.The scenes when she is crying and being mad at me had me actually
just wanting to take care of her and make sure she was ok… or not when
she was mad at me at that point I just wanted to run. She's such a great
actress and guided me through it, almost made even me look believable.
There were moments through that video shoot though when the whole
crew was like "ok this is too hard, let's go take a break" everybody was
going through their own last breakup in their head. Love the video though.
21 Rodolfo from Chile, Nicolas from Argentina & Jose from Mexico:
Would you like to do a duet song with any of your ex bandmates?
No I don't think so. I have a very different idea of where I want to go
with my music which shows in our different projects.
22 Leonardo from Sweden: Which artist/s would you like to do a duet with?
Oh there are so many. If there could be one of all time it has to be Freddie
Mercury. He is awesome. Right now I really like Daniel Adams Ray out of the
Swedish bands. Or actually Bon Iver or someone arty like that. I just don't
know if I could keep up. There are so many. I have always wanted to do a collaboration with someone. I think I might try it too at some point. We'll see.
23 Leonardo from Sweden: Which Swedish artist/s would you like
to do a duet with?
Daniel Adams Ray would be interesting, or Robyn (but then so does
everybody else want to). Actually there is a girl called Edith Backlund
that I met a bunch of years ago that would be interesting to do
something with. She has an amazing voice.
24 Leonardo from Sweden & Rodolfo from Chile:
Would you like to participate in Melodifestivalen? (ESC)
Hard to answer. But I don't think so. I think that is something
that the time will have to tell.
25 Belinda from Germany: Which was the best moment of your career?
That is a difficult question. My own album release was the most important
moment for me. I think it is yet to come to be honest.
26 Jose from Mexico: What happened to your website?
When will it be updated?
I'm sorry about that. There is just so much else. And being the MD of the
family company takes up a lot of time. I'm just grateful Marina is helping me
out with the FB fan page and the Youtube channel. That is awesome. I will
shape it up again for the next release. But it might be a while.
27 Marina from Argentina: Will you start blogging any time soon?
Is that something you guys would like to read? Well it'd concern a bunch of
other matters than music. Actually the reason I am not doing it is time. I have
a secret blog that I use for practicing but I always do it for like a month and
then feel like I run out of things to say. I guess at the end of the day I rather
take in knowledge than try to impose my opinions on everybody else. There
are blogs that I really appreciate but most of the time I feel like we are living
in a world where everybody is shouting and nobody is listening. I end up in a
"what's the point"-feeling and that's when I stop blogging.
I'll turn that question what would you want me blogging about? ☺
28 Leonardo from Sweden: What do think about your time in A-Teens?
And how do you live with it now?
It was awesome. It was hard. It is the best thing I have ever done. It taught
me everything. It left me with nothing. A*teens is something I loved. I hated
that it ended and that it ended the way it did but I also feel and felt that I
was done with it in the form it was. The time in a-teens is (thanks to you all
guys) something that I remember and cherish more than anything. It might
very well be the most successful and fun thing that I participate in in my life.
iA-teens now is something that I did. It does not define me anymore. It did
for a while. It is a part of me that I cherish and experiences that I draw on at
least every week. I learned so much there. The backside of it was just when
we got out of the band, I had a lot of issues that I had to deal with and also
went to therapy for a while but that is in the past now and I have emerge a
stronger person. Also the fact that A-teens enabled me to make my own
album, that would never have happened otherwise. That was important.
As I said. Songs in a Key of mine was a healing process and a challenge that
sort of put me back together again.
29 Jessica from Spain, Jose from Mexico & Lucia from Uruguay:
Will you promote your first or upcoming album in Europe? South America?
We will see. I think I will work quite differently with the new material coming
out and I will try to make it at least one lap around the world regardless of
how much it sells. That is my goal any ways.
30 Rodolfo from Chile, Caio fr. Brazil, Aarif fr. Malaysia & Paulina fr. Mexico:
Would you like to come back to Chile? Brazil? Malaysia? Mexico?
I loved Latin America. I am coming back. And when I am I will bring
a piano and my skis.
Finally I just wanted to thank you guys for the support. You are awesome.
You are so patient. I am sorry I am being difficult and taking forever between
times when I am in touch. I appreciate the things you do for me and I love
that you listen to my music. I hope that my music gives you something!
W love
/Amit

2010/Feb/20 Amit´s reply to our request on FB:




read all (right click+open in new window/tab)





2010/Feb/09 Dhani´s reply to our request on FB: