Stockholm 2014 SWEDEN
Wednesday - October 22





Fangroup No.1
m e e t s
Amit, Marie and Dhani !




Unbelievable ... but we have met them again !

Marie Amit Dhani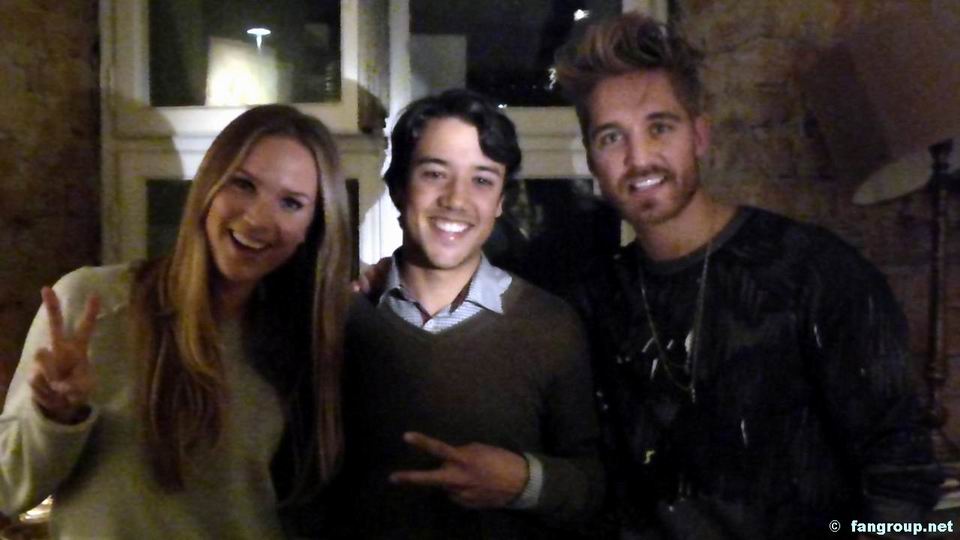 For more photos please check fangroup-mm.net
and the Instagrams of Amit, Marie and Dhani
and what Marie has posted on her BLOG




So here you can read the story about:


2014 10 years after the split of the band A*TEENS we thought it
would be great to meet them again, in their hometown Stockholm.

So I've mailed each of them to ask if it would be possible and if they
also would like to meet up with us once again after so long time ... ?
And what should I say ?? Amit replied very nice ... and positive !
We talked about the details, and after it was save that we will meet
Amit, Loreen and me booked our flight and hostel and me the train
to the airport in Bremen. But unfortunately ... there was no reply
from Sara, Marie and Dhani - what a pitty ! I mailed again and also
a third time ... but nothing ! Then ... a few days before we started
our journey, Sara replied that she was booked all day and night, so
can't find time to meet us ... but wishes a great time in Stockholm.

So it was sure we would meet Amit,
and that was ok for us:
Bella, Lina and Leonardo from Sweden, Julien from Holland,
Loreen and me (Thommy) from Germany ... and our special guest
Caio, one of the A*Teens Cover's dancer in Brazil I've announced
as a big surprise in my mail requests to Amit, Marie, Sara and Dhani.

But some things turned out differently than planned !
Unfortunately, the day before the meeting we got the messages
from Bella and Lina that they can't take part because of illness,
and also our surprise guest let us know that he had to cancel
because of private problems. Finally, at the day of the meeting
we were four fans ... waiting to meet Amit at 17:30 at the
metro station green line St. Eriksplan .

And suddenly Amit was there !
After a warm "Hello and Welcome" Amit smiled and smiled while
texting SMS ... but then we started to find a Café to sit down and
start talking. So Amit lead us to the very near Café Mellqvist ...
we went in and ... there was Dhani standing around with friends,
OMG OMG !! Maybe a dream ?? Slowly we recognized what was
going on, why Amit smiled the whole time ... ! OOPS, now even
Marie came slow and quiet from behind, the 2nd dream ?? No !
All three were real live ... like you can see in the VIDEO:




WOW ! WOW ! WOW !
What for a nice surprise Amit has organized, just for us !
We were really speechless, and even after the first "shock" ... we
couldn't understand what just happened around, but sorry, 1/4
was missing: Sara ! :( She wasn't able to take part to make the
little reunion complete, because she was booked all day and night,
so had to work - what a pitty ! "So it is when you own a studio"
she later writes in a 2nd mail. So we hope to meet her soon ! ;)

Back to the meeting: After the first minutes have passed I've
asked Amit, Marie and Dhani if they would sign some prizes of
our last contest ... and they did this like in old times, thanks !
Ok winners, so your prizes are signed and will send to you soon !

And guess what ?? Amit gave me a small box with signed CDs
he brought to us to the meeting and said: "You can use them
for the next contests if you like" Thank you so much Amit !!
So the next contest will start soon, and you guys know now
what we have to give away and you can win, so stay tuned !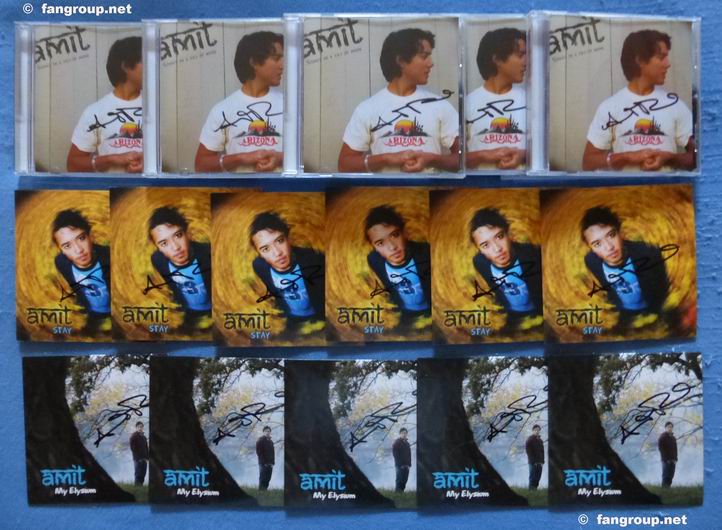 Like you can see on the photo below, we had a lot to talk
about what just happend, but also about memories and
plans in the future. The time flew by so fast - soon we ...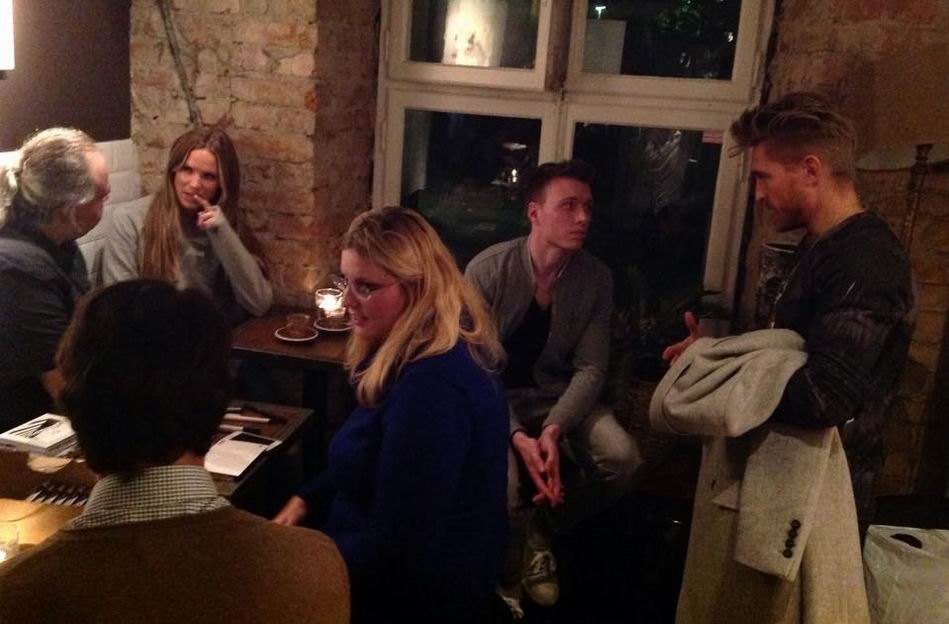 had to get ready to shoot some final pics and the video
above before the time has come to say "Thanks" again
and "Good bye" - till the next time we'll get the chance
to meet them, then surely with Sara too !!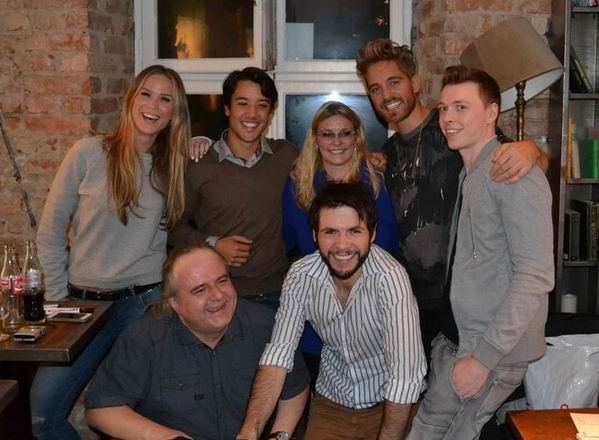 Greetings from Stockholm

And of course we have sent some nice postcards out too !
This one reached Marina in Argentina // Amit's fb fanpage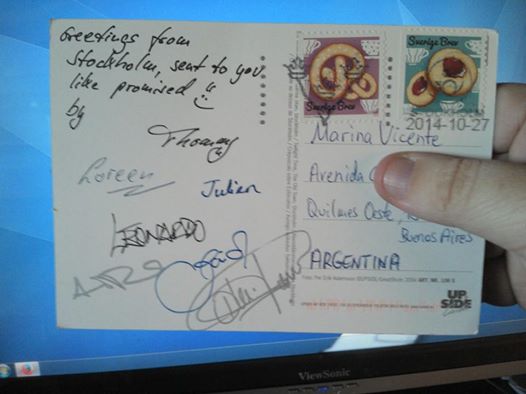 Griffin's Steakhouse


You all can remember the first photo below ??
2012/Sept/18 A*TEENS reunion @ Griffin's !

Loreen and me were there on Monday, Oct. 20th 2014, but
we could not sit at the same table like the four, because the
restaurant was filled and these tables occupied. But we went
back again on the day of departure before lunch time, then
someone from the team was so kind and made some pics of us,
NOW sitting at the same table like the four sat two years ago !

Steaks and food we've ordered: very delicious !
If you are currently in Stockholm, or you're living there, you
should try to get a table at Griffins' Marie about: BLOG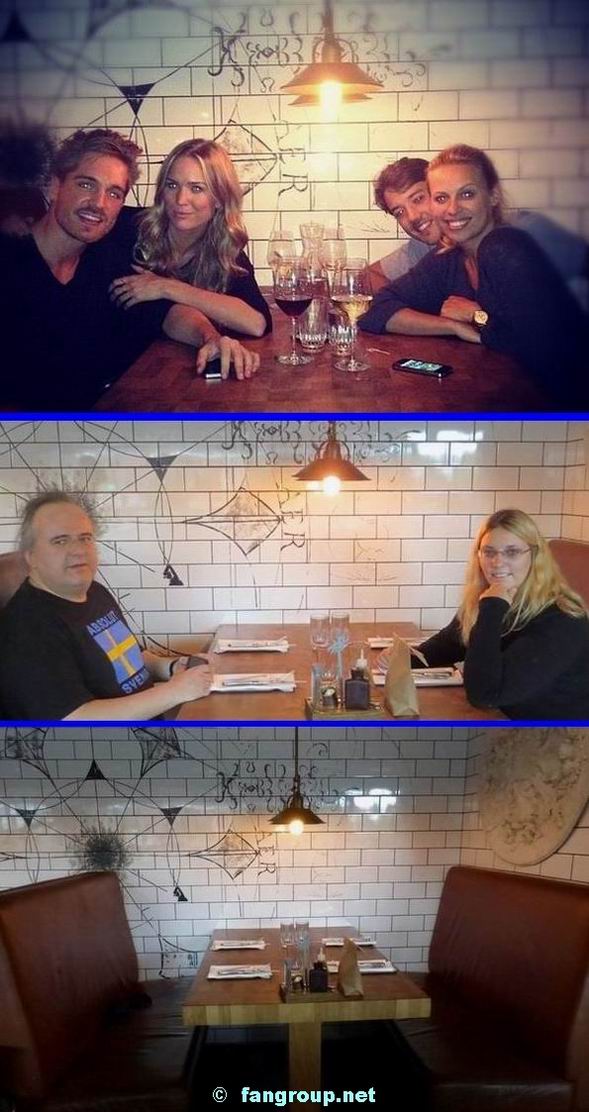 Stockholm 2014

V I D E O S




Rygerfjord I - III

Yes ... our hostel was a nice boat: the Rygerfjord III
Clean, quiet, nice and friendly crew, very recommendable !
"I miss your breakfast !" (the author) Rygerfjord.com
The way to the cabins - a little bit of romantic maybe !?


Rygerfjord II + III

Relocated to the other side of the main boat.
But because it started to rain we haven't watched it all.
At the end you can see the way to Sara's studio FLOW
and how it looks outside. From here we went to Globen !


Globen (1)

On the way to the big hall Eriksson Globe, short: Globen !
Do you remember the hall from Melodifestivalen 2011 ??
Marie sang on the roof, together with Rickard Olsson video


Globen (2)

Now we have reached the place Marie dreamed of in
earlier years: "That's one of my biggest dreams: one day
to perform at Globen !" And a few years later she did !


Globen (3)

Globen Sky View from the roof, very nice !
Enjoy the roundview on Stockholm like it looks 2014



From Globen to Lilla Essingen

The 2nd place we wanted to visit the day before the meeting,
Lilla (Little) Essingen: the small island where Sara lives with her
boyfriend and her dog Lily. First we took the metro to Stora
(Big) Essingen, where we filmed the bridge Sara probably take
to drive to her studio and back. Then we went to Lilla Essingen
via bus, and after a few hundert meters we discovered the park
where Sara goes with Lily to let her do her business: Lux parken !
It was dark and stormy, so we couldn't see a lot, as suddenly
three little crazy dogs ran after a ball a girl has thrown. We asked
her if she know Sara and Lily ... and yes, she said she know them.
After a nice small talk we left some greetings for Sara and took
another bus to the meeting point the next day, St. Eriksplan !
After we have found it we then looked for an italian restaurant
or cafe to have pasta for dinner ... so we asked some people,
and finally we found a nice one: Café Levinsky's 2x pasta with
meatballs and salad (maybe the best in town !) ... later we took
the metro back to Gamla Stan (old city) and the Central bridge
and recorded Stockholm at night for you, also a few minutes
later, from the deck of our boat ... so hope you'll like it !



That was our trip to Stockholm in October 2014 ......
and the meeting with 3/4 of the ex-band A*TEENS


Thank You so much Amit, Marie and Dhani,
we hope to meet you 4/4 soon again !